Every week we speak to someone at Mastex who is struggling with a Safety Management System on board. Customer audits are becoming increasingly important, so it is important to have everything under control as well. Many shipping companies are struggling with mandatory regulations. Today I spoke with a ship manager in Indonesia who expressed the following frustration:
"I don't even know what my flag requires of me!"
Nothing new under the sun
The struggle described above is of course not new. Regulations are becoming increasingly specific, complex and comprehensive. Enforcement there and against is sometimes very different per region and therefore also unfair. Often the benevolent crew and superintendents are asked to do the almost impossible to keep a ship in service.
Crew issues
Today, the crew of a ship comes from all over the world. Ship owners also don't want to spend more than necessary, but… at the expense of what? Education is a different concept in Indonesia than in Norway. Crew from Philippines have different standards when it comes to maintenance than crew from Germany. This article clearly shows that worldwide the crew is getting older. Much "older" crew is less skilled with computers. This statistic clearly shows that there will be fewer and fewer European seafarers at management level.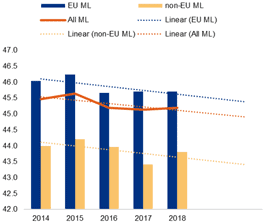 Digitization from threat to opportunity
Less than 15 years ago, we had never heard of smartphones. Nowhere in the world they can no longer be ignored from the street scene. This proves that the digital revolution is a fact. Our children may never have seen a cassette tape before, but know flawlessly how to use popular apps, such as Whatsapp, Telegram, Instagram, etc …
The developers at Mastex are working every day to make the software even easier.
Less is more
Simplicity is achieved by properly configuring the software. As a golden rule, you can say that less is more. By this we mean that it is important to only make visible parts that are strictly necessary for a certain target group. Then comes the step: visible, but not adjustable. Finally, there is also an option to close documents, be it for editing, or visibility.
The safety manual
The documents module MXSuite gives you peace of mind and certainty that what needs to be done is happening. The creation of an NCR can be arranged in such a way that the form is automatically followed up by the QHSE manager. Subsequently, he can assign a specific task to reporting, so that he can be sure that follow-up is assured.
Inspections
Two weeks ago I spoke to a customer who told about a customer audit on board a ship: "We showed MXSuite and the auditor was immediately enthusiastic!"
Nothing will stop you
Whether you are used to working with MXSuite or not, find out how to easily record your procedures. Make sure that you will never be faced with surprises again.
Whatever is possible
It could be that everything has already been set up correctly for you. Then it's time to take it a step further! Especially for those users who would like to take more advantage of what is already available in MXSuite we have one special dashboard developed. In the dashboard you can visualize data, so that you can easily compare things. You get real-time insight how your fleet is doing.