Managing documents is a challenging job. Lots of documents are present at the office, but should also be visible on board of the ships. The MXSuite Documents module offers the unique solution, whereby certainty becomes insightful.
What is the purpose of the document module?
The document module can be applied in several ways. Amongst others, one could think of the following applications:
Efficiently saving manuals, instruction booklets, and

maintenance

instructions
Spreading (intern) notes or memos
Documenting procedures and

safety

instructions among other for ISM / SMS
Saving the digital copy of your SMS (Safety Management System)
Filling in and saving forms based on a template, such as a noon

report

, non-conformity report, incident report or collision

report

. Using this, surely the most recent and actual version of the template is used.
Three types of documents
In the document module, globally three types of documents can be added:
Static

documents

Editable documents
Forms
Static documents: this concerns documents that do not have to be modified in MXSuite. The file can have many types of formats, such as PDF, Word, Excel or image formats. These documents are saved and can be seen by the MXSuite users.
In this way, you know for sure that your documents are available on board!
Editable documents or documents based on a template: these documents can still be edited in MXSuite. In order to do that, MXSuite opens the document in edit modus, which makes that the document is editable and can be saved in MXSuite.
Moreover, documents can be created based on a template. By adding a form is as Word document and saving it as template, the crew can create documents based on the template.
In this way, you keep in control of your templates!
Forms: with forms, the reports that should be completed in MXSuite, are built as a form, so that the crew on board fills in the forms whenever you want them to do that. For every field that should be completed, it is determined what is allowed and what is not allowed. Thus, for example, it becomes impossible to enter a written text where a date should be entered! Also fields can be made mandatory. In that case, the crew cannot skip or forget that field! This enlarges the accuracy and the reliability.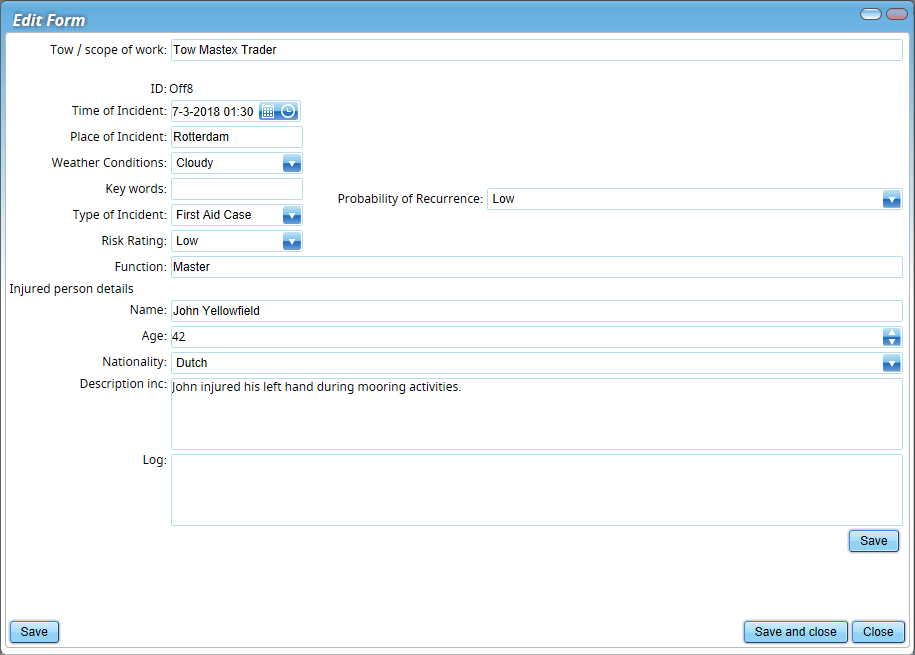 Also, reporting becomes easy by using forms, because the entered data are directly saved in the database and based on that, a whole year report can be made.
In this way, you will receive real insight!
Comprehensive user rights
Because the document module can be used for so many goals, in this module there are lots of user rights that can be set. For example, for every document category a role can be assigned per user group, but documents could also be marked as confidential. It could, for example, be that the captain is allowed to edit the documents, the officers are allowed to only read the documents, whereas the machinists are not even allowed to see the documents. Also, for every document category and document it can be indicated to which ship the document should be synchronized. The big advantage of this is that the document only has to be added once in MXSuite, and then can be made visible for the whole fleet.
And further…
For every document, it is clear what the history of the document is. When was it made and by whom? When was the document edited and on board of which ship? And who has read the document? It is all insightful in the log that can be requested for every document.
As soon as documents are added, it is possible to make the crew actively aware of the new documents. When starting up MXSuite, an overview is shown of all new and edited documents.
It could also be important that every crew member signs for receiving a document. Therefore, it is possible to ask for user name and password when opening that document. In this way, it can be confirmed that the document has been read.